CA Intermediate Registration 2022 – Fees, Procedure and Last Date
When a student fills the CA Inter Registration, that means they are already in their second step towards their journey of becoming CA. And this level requires students to do hard work for studying the vast syllabus, which consists of 8 papers. The CA intermediate part strengthens the students' knowledge about Finance & Accounting. Moreover, numerous students ask about the CA Intermediate Date sheet, which you can check out directly from here by visiting the above-given link.
This article covers all the details of ICAI CA Intermediate Course Registration 2022, including CA intermediate eligibility criteria, Registration Procedure, Last date of Registration, Required Documents, Registration Letter & the procedure of checking registration status.
CA Intermediate Registration Eligibility
There are two methods for CA Intermediate Course Registration are:
CA Foundation Path – You have to clear the CA Foundation exam first then you're eligible for the registration.
CA Direct Entry Path – Students who have completed their graduation or post graduation with required minimum percentage can directly register themselves for CA Intermediate Course.
In order to be eligible for CA Intermediate Direct Entry, you must meet the following criteria:
Students from commerce background either graduate or postgraduate are required to have a minimum marks of 55% in their exams and students from non commerce background require at least 60% marks.
Aspirants must have passed the Intermediate level from the Institute of Company Secretaries of India & from ICAI.
If you choose to go through the CA Foundation route, you can register for single group exams or give both group exams simultaneously. However, if you're going to register through the Direct Entry System, you have to register yourself for both groups at a time.
How to Register For CA Intermediate?
In this part we are going to cover how to do CA Intermediate Registration step by step.
Step 1: First, you have to login into the SSP portal.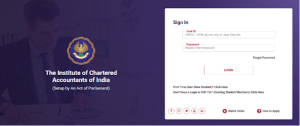 For that, You have to create an account on the official ICAI website in the SSP portal for starting the registration procedure. Once you have made the account, you have to login into it with your credentials. If you don't have a user ID yet, check out the button saying "FIRST TIME USER" ( For New Student) as given in the below image.
After compilation of account creation, you will get your login details in your registered email.
Step 2: Here you will get Student Cycle option shown in the below image

You have to put your registered email id & your password here and then click on the "Login" button to get the "Student Cycle" button and click on that button.
Then, you'll get the option to click on "Intermediate through PE1/CPT/Foundation. If you are eligible for the Direct Entry method, click on the "Intermediate (Direct Entry) for existing students, as shown below.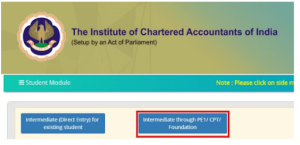 New students eligible for the direct entry method, ICAI, have created a new direct entry form. You will get the link to the direct entry form into the SSP portal (as shown below image) & click on that button.

You'll need to create your login account here, as we covered in previous steps. Once you have your login credentials in your registered email id, Sign in with it and click to the "Apply for Direct Entry for new applicants" as shown in the below image.

Step 3: Fill out the Form
If you're already an existing student, your information will be automatically filled in.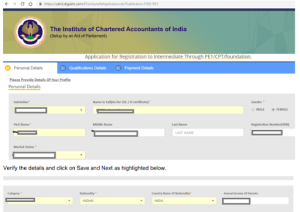 Click on the "Save and Next" button.
Fill out all the required fields such as your mobile number, DOB, Email address, and other information needed.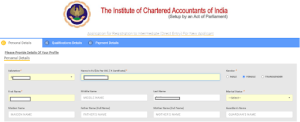 Step 4: Fill out your Educational qualifications details.
You have to fill out your educational qualifications here. Also, keep in mind that your 10th & 12th class details are mandatory to fill in the form & it's also compulsory to attach a copy of self-attested documents. Hence, make sure to scan and sign all the required document copies & upload them here. (As shown in the image below)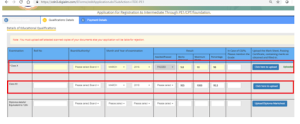 Step 5: Specify your preferences
This window system will ask you about your medium preferences for providing you with the study materials. Whether you choose single or both groups, You'll get the study material according to your selected preferences.

Now, click on the "Save and Next" button.
Step 6: Upload your photograph & signature
You have to upload your recent photograph and keep in mind that your image must be under 100 KB in size. Also, jpg or jpeg format images are acceptable only.

Take note: The maximum size for the image is 21 cm wide & 27 cm in length. If all these conditions were not met, there are chances of application rejection.
Step 7: Generate an OTP
Once you have completed all the above steps, click on the 'Generate OTP' button.

After clicking the button, you'll receive the OTP in your registered phone number & you'll get a verification link into your email id.
Step 8: Complete the application procedure
After filling out the OTP, go through CAPTCHA and click on the "Submit" button.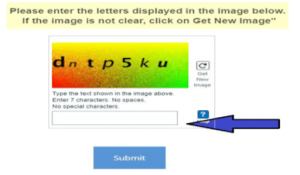 Once captcha verification is done, you've now completed your application submission procedure. ICAI will verify it and approve it in a few days.
CA Intermediate Registration Fees
The CA Intermediate Registration Fees for a single group is 11,000 Rs, & both groups, it is 15000 Rs.
Check out the below table for the CA inter Registration fees 2022:
| | | |
| --- | --- | --- |
| Fee Details | Both Groups | Single Group |
| Registration Fees | 15000 Rs | 11000 Rs |
| Student's Activity Fees | 2000 Rs | 2000 Rs |
| Registration Fee (Article assistant) | 1000 Rs | |
| Total | 18000 Rs | 13000 Rs |
* Only to be paid once.
For international students, the CA Intermediate registration fee for a single group is (600$) & for both groups, it is (1000$).
Students entering CA Course through the direct entry method have to pay 200 Rs (US 20$) additionally for the prospectus cost. Students also have to register for the OP & ITT training programs before registering for the final practical training for 15 days.
You have to submit the (ITT training program) fees of 6,500 Rs & 7,000 Rs respectively for OP (Orientation Program).
Take Note: ICAI had announced that they had waived the 75% registration fees (Concession of 13,500 Rs) for the students belonging to J&K, Ladakh & other eight northeastern states till 31st March 2022. Moreover, these students must submit their ID proof & domicile certificate.
List of Required Documents for CA Inter Registration
Attested copy of class 12th mark/score sheet or its similar recognized exam by Central Govt.
For the direct entry students – Attested copy of their graduation/post-graduation mark sheet or statement of marks of Intermediate level exam of ICSI or ICWAI.
Latest colour photographs.
If a student is international, they require Nationality proof.
If a student is from a special category, then a special category certificate (i.e. ST/SC.OBC or differently-abled.
While filling out the CA, Intermediate registration, carry all the above-given documents along with you.
Once you complete all the required formalities, ICAI will send you the Study Material at your registered address for exam preparation.
CA Intermediate Registration: Important Dates
It is important to fill out the CA Inter registration form 2022 before the last date. The last registration date for the CA Intermediate course for NOV attempt is 1st March 2022.
| | |
| --- | --- |
| CA Intermediate Registration 2022 | Dates |
| In May 2022 | 1st Nov, 2021 |
| In Nov 2022 | 1st March, 2022 |
How do I check CA Intermediate Registration Status?
These steps will help you check your CA Intermediate Registration Status:
First, Open the ICAI official Website ( www.icai.org).
Second, click on the E-Services section over there.
Third, the ICAI website will take you to the web page to search for "Reprint Letter' click on that button.
Now, fill in the required details, then it will generate a letter which will consist of your CA Intermediate Registration Status.
Usually, this procedure takes 30 to 40 days to get updated on the portal. So, regularly check the site for that.
In case your registration status has not been updated after a certain amount of time, you should contact your regional office.
Conclusion
CA Intermediate is the 2nd step of the CA Intermediate course. In the above article, we have covered all the details regarding CA Intermediate Registration, such as registration fees, exam dates, required documents etc. You can directly check out all the details by going through the above article. I hope this article will help you in your CA Intermediate Registration procedure, and best of luck with the upcoming exams.